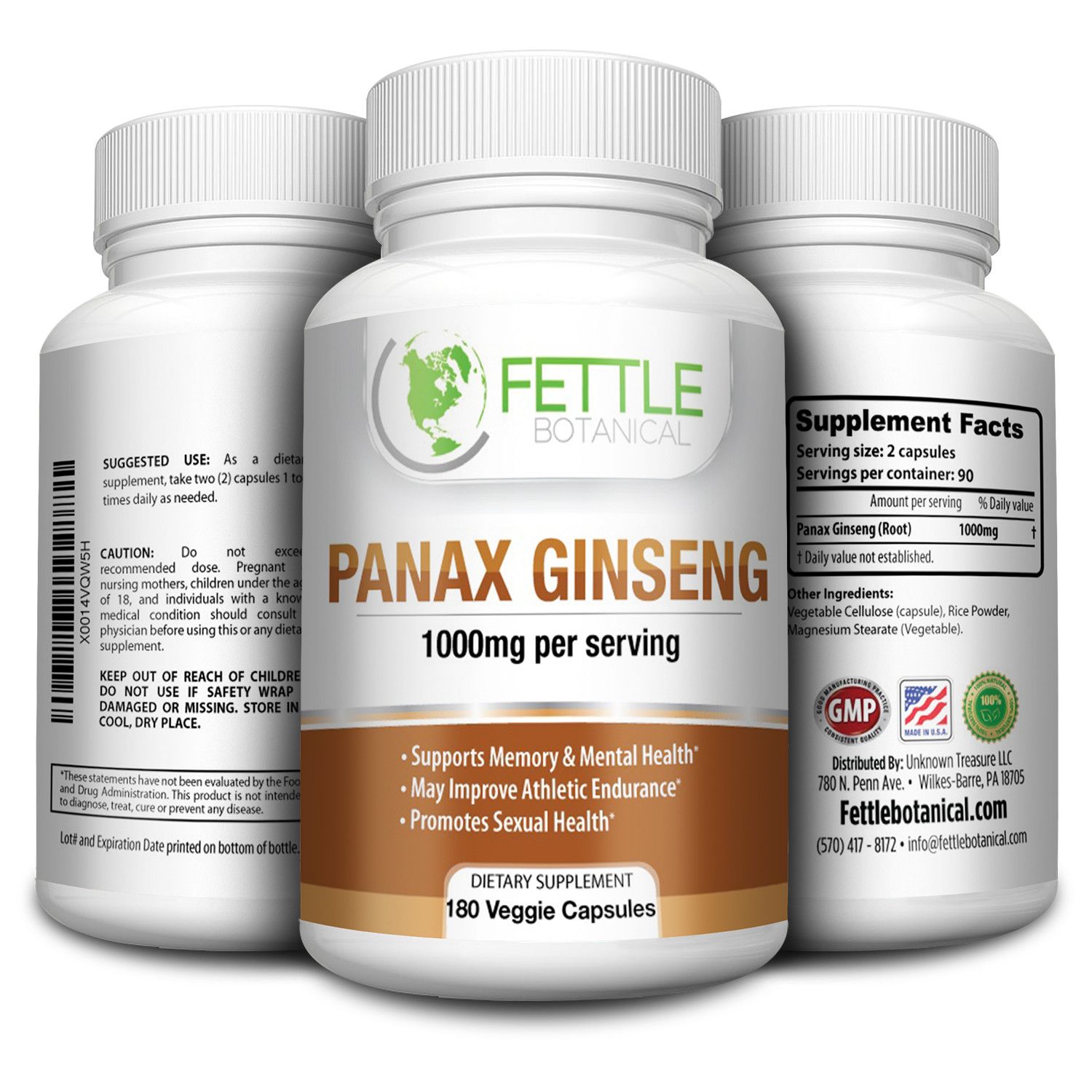 Pure Panax Ginseng 1000mg per serving 180 Veggie Capsules
SKU X00014VQW5H
Product Details
PANAX GINSENG 1000mg Dose 180 Veggie Capsules 3 MONTH SUPPLY
MAY IMPROVE STAMINA, MENTAL & PHYSICAL HEALTH - Panax ginsengs is often referred to as a well-being supplement, It may have positive affects on multiple systems of your body. Panax ginseng can be used for improved memory, concentration, work efficiency, athletic performance, and physical stamina.* The make up of Panax ginseng consists of ginsenosides or panaxosides which are powerful antioxidants.Antioxidants fight free radicals which can be the cause of poor memory or other problems.*
NATURAL FORMULATION There are No fillers, binders, or harmful preservatives.This product is Vegetarian Safe, Non GMO , and Gluten free.Made in an FDA inspected and GMP certified manufacturing facility in the USA.
OVERALL HEALTH & WELL BEING - Panax ginseng capsules are an ancient herbal supplement, Panax ginseng 1000mg may help to cope or ease stress and as a general tonic for improving Health and your Well-being.* Panax ginseng is an adaptogen or adaptogen Herb.It's used for elevating mood,reducing anxiety, fatigue, and for making the immune system stronger.*
ADAPTOGEN HERBS Can help lower Cortisol which is known as the aging hormone.When Cortisol gets too high, it put's your body into a "fight or flight" response.Which stimulates adrenal stress.When this occures blood pressure can rise.This puts your body in a constant state of stress.Which can lead to fatigue and other problems.*
PANAX GINSENG has been used as an herbal supplement for thousands of years.
Some of it's benefits may include:
1. Improves Athletic & Mental Performance *
2. Promotes Sexual well being & Performance *
3. Helps Relieve Stress and Increase Overall Mood
4. Maximum Strength 1000mg
5. 3 Month Supply , 180 capsules
6. 100% Premium Panax Ginseng
Our pure Fettle Botanical Panax ginseng is free of fillers, binders, artificial ingredients, harmfurl preservatives , and GMOs.It's also gluten free and vegetarian safe.
Our supplements are always formulated in a GMP FDA inspected facility in the USA.
Each daily dose contains 1000mg - we deliver 180 capsules which is a 3 month supply.
Panax Ginseng should not be confused with American or Siberian ginseng, which are entirely different plants.
Save this product for later
Free Shipping to the U.S.
Free Shipping to Canada on orders over $25